Andrew Lloyd Webber
Biography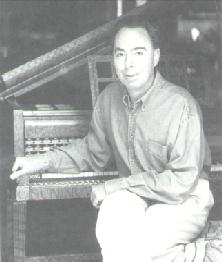 A note from Elaine:
In 1996 I wrote to the Really Useful Company to Andrew Lloyd Webber to, well thank him for such beautiful music. I received a very nice and interesting letter a postcard of Lloyd Webber (seen above) and the following biography. Now please remember that I was given this in 1996 so some details may now be no longer relevant or correct. Anway on with the biography . . .
Andrew Lloyd Webber was born in 1948. He is the composer of Joseph and The Amazing Technicolour Dreamcoat, Jesus Christ Superstar, the film scores of Gumshoe, and The Odessa File, Jeeves, Evita, Variations and Tell Me On A Sunday, combined as Song and Dance, Cats, Starlight Express, Requiem, a setting of the Latin Requiem Mass, The Phantom Of The Opera, Aspects Of Love and Sunset Boulevard.
His awards include six Tony Awards, four Drama Desk Awards, three Grammy's, including the award for Best Classical Contemporary Composition for Requiem in 1986, and five Laurence Olivier awards, his most recent awards being two Tony's for Best Score and Best Musical for Sunset Boulevard.
He is the first person to have three musicals running in New York and three in London, a record he acheived in 1982, 1988, and again in 1994. He is the first recipient of the American Society of Composers, Authors and Publishers' Triple play Award. In January 1996 the London production of Cats became the longest running musical in West End and Broadway thatre history.

Andrew Lloyd Webber, through The Really Useful Group, produces not only his own, but other writers' works including Shirley Valentine, Lend Me A Tenor and La Bete.
In 1988 he was awarded a Fellowship of the Royal College Of Music, and in 1992 was awarded a Knighthood for swervices to the arts. He was inducted into the American Songwriters' Hall Of Fame and given the Praemium Imperiale Award for Music in 1995.
Andrew will have two new musicals premiered in 1996; By Jeeves and Whistle Down The Wind
January 1996
The Really Useful Company
JOSEPH AND THE AMAZING TECHNICOLOUR DREAMCOAT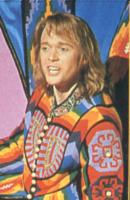 March 1 1968 saw the first performance of Joseph And The Amazing Technicolour Dreamcoat at Colet Court School in London. Andrew Lloyd Webber and Tim Rice
had been commisioned by the school's headmaster to create an original piece for the end-of-term concert. The result was the first version of Joseph and the Amzing Technicolour Dreamcoat - all of fifteen minutes long.
Over the years the musical was expanded and the record-breaking production which opened at the London Palladium on 12 June 1991 starring Jason Donovan ran for two hours was seen by over 2 million people
during it's two and a half year run and grossed over 47 million pounds.
It is this performing version which is currently enjoying a highly successful UK tour and has been seen in the USA, Canada and Australia with further productions planned in Japan and Germany.