Biography Page 2
JESUS CHRIST SUPERSTAR

Jesus Christ Superstar a rock opera in two acts with music by Andrew Lloyd Webber and lyrics by Tim Rice and based in the last seven days in the life of Jesus Christ.
The show opened on the 12 October 1971 at the Mark Heelinger Theatre, New York and was the first musical by Rice and Lloyd Webber to be produced on the professional stage.
The recording of the show with Ian Gillam (Jesus), Murray Head (Judas) and Yvonne Elliman (Mary Magdalen) topped the American album charts three times.
The production opened in London on 9 August 1972 with Paul Nicholas (Jesus), Stephen Tate (Judas) and Dana Gillespie (Mary Magdalen). By the time it closed, after some eight years and 3,358 performances, it had become the longest running musical in West End history.
Jesus Christ Superstar has been reproduced regularly, around the world, in the 20 years since it's first appearance. In Australia there have been a series of vastly successful Harry M Miller staged concerts of the show with local megastar John Farham in the role of Jesus.
EVITA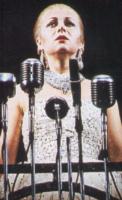 Evita, based on the life of Eva Peron, opened at the Prince Edward Theatre on 21 June 1978.
Elaine Paige created the role of Eva, the Argentine girl who charmed and scratched her way up to share the power and the bed of her country's leader General Juan Peron.
Evita, was conceived as a sung-through dramatic piece and Don't Cry For Me Argentina proved to be the be the most popular single number from a show in many years. However, it was eighteen months after the release of the record before the Evita arrived on stage. The production was directed by Hal Prince and was an artistic and popular success.
"Evita is quite marvellous modern opera, exceeding in stature even Jesus Christ Superstar. Lloyd Webber's score, so full of glorious melodies . . . . . . . . . . . . . in an unparalleled fusion of twentieth century musical experiance. Echoes of the past - Tschaikowsky, Puccini and church choral music - shimmer hauntingly through. But it is the interweaving of pop, rock, jazz, Broadway, Latin and other elements which makes a brew so astonishingly potent . . . . . . . . . In Tim Rice he has a partner of perfection. Rice writes tenchant, modern lyrics, superbly married to Lloyd Webber's ambitious score - a score so skillfully orchestrated that I am amazed to have read somewhere else no comment yet upon this aspect.
The Times
Bibliography: The British Musical Theatre - Kurt Ganzl.