Biography Page 5
VARIATIONS / TELL ME ON A SUNDAY / SONG AND DANCE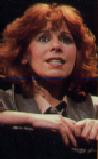 The album Variations was launched in 1978. Based on Paganini's Caprice in A minor the recording featured Andrew Lloyd Webber's cellist brother Julian and a number of the rock world's leading musicians.
In 1982, this work was combined with Tell Me On A Sunday (an Andrew Lloyd Webber / Don Black song cycle) to produce the musical Song and Dance which opened at the Palace Theatre in London on 26 March 1982 for a run of 781 performances, closing March 1984. Tell Me On A Sunday was sung by Marti Webb originally and subsequently by, amonst others, Gemma Craven, Carol Nielsson, LuLu and Liz Robertson.
Variations choreographed by Anthony van Laast was danced by an electric team of dancers including Wayne Sleep, Graham Fletcher, Sandy Strallen, Linda Mae Brewer and Jane Darling.
Song And Dance was subsequently presented in Australia, the USA, Germany, Switzerland, Austria, Norway and Holland.
In a slightly rewritten form, the show ran on Broadway for over a year to great public response. 1987 saw the world release of a new orchestral version of Variations together with an orchestral tone poem Aurora written by Andrew Lloyd Webber's Father.
REQUIEM
1985 saw a further development in Andrew Lloyd Webber's compositional style with Requiem, A Requiem mass dedicated to his father. The work has been performed to great acclaim in London and around the world and was choreographed by Kenneth MacMillan for the American Ballet Theatre's 1986 season.
---
WHISTLE DOWN THE WIND
(Added by Nick)

In 1996, Whistle down the Wind opened in Washington, but it was soon realised that the show needed some more work and ALW invested a lot of money in revising it. This was certainly worth it though, as the show has been a big success playing at the Aldwych theatre in London since opening there in July 1998. The score is a lot more upbeat than his previous three musicals, and attracted enough interest among singing stars that an album of covers was recorded featuring the likes of Meatloaf, Tom Jones, Bonnie Tyler, Boy George and Boyzone. Boyzone had a huge #1 hit in the UK with their song from the show, No Matter What.