Biography Page 3
CATS

Cats is based on fourteen poems of T.S. Eliot's Old Possum's Book Of Practical Cats with music by Andrew Lloyd Webber.
The original production opened at the New London Theatre, in the West End on 11 May 1981. Eight years later it celebrated both it's birthday and another important milestone: it had become after 3358 performances, the longest running musical in the history of British theatre. It is also one of the most successful musicals the world has ever seen and has played, and continues to play, to packed houses in approximately 250 cities around the world. It is estimated that over 48 million people have seen the show and the estimated gross box office worldwide has exceeded 825 million pounds. The production's awards include the Laurence Olivier and Evening Standard Award for Best Musical and seven Tony awards in New York.
The musical is now being made into an animated feature film in Conjuction with Steven Spielberg's Amblin Pictures under the aegis of Universal Pictures. Apart from the box office revenues, further substantial revenues should arise from merchandise and video sales. The fact that the film is animated should also ensure that there is no detrimental effect to the audience attendance of the theatrical production.
STARLIGHT EXPRESS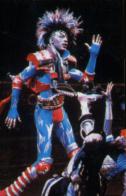 "Starlight Express started life in 1975 as a sort of Cinderella story which I hoped would be an animated movie. It never got of the ground. Then in 1983 I rewrote it for my children, Imogen and Nicholas, in the version that opened in March 1984. Nine years later we have revised Starlight Express whose new music is dedicated to my six-month-son Alistair"
ANDREW LLOYD WEBBER
October 1992
In April 1991 Starlight Express became the second longest running musical in London Theatre history and there have been several productions worldwide since 1984 in the USA, Japan, Australia and Germany. With lyrics by Richard Stilgoe and Don Black and choreography by Arlene Phillips, Starlight Express has been seen by an estimated 13.5 million people and gross box office worldwide is estimated at over 230 million pounds.
In 1993 the enitre creative team re-grouped to revise the show for a new generation. Five new songs were added, numbers were re-choreographed and a new chevron logo signalled the show was ready to take on the next decade.
THE PHANTOM OF THE OPERA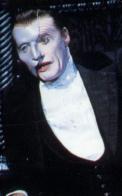 Based on the novel Le Fantome de L'Opera by Gaston Leroux with music by Andrew Llyod Webber and lyrics by Charles Hart and Richard Stilgoe. The musical opened at Her Majesty's Theatre on 9 October 1986 with Michael Crawford and Sarah Brightman in the leading roles and there have been thirteen productions worldwide since then.